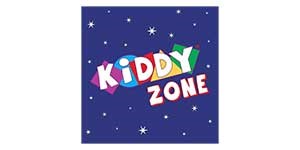 Store Location

First Floor

Contact

Tel : 02 582 3131

Email : marketing@qntgc.com

Hours

Sun - Thur 10:00 AM - 10:00 PM

Fri - Sat 10:00 AM - 12:00 AM
About the Store
Toys for Every Child…
…build beautiful memories.
Kiddy Zone is a brand synonymous with quality and innovation, offering an unparalleled and spectacular collection of world-class toys that have enchanted Qatar, UAE & Oman and cultivated a loyal clientele.
Kiddy Zone boasts the most versatile line of kid's toys category ranging from Boys, Girls, Babies, Pre-school, Educational, and Outdoor play items to Party items, Electronic games, Branded garments, Sweet products, Kid's cosmetics, Kids furniture and jewelry, Gift vouchers and much more.
The concept of Kiddy Zone stores is to let children, as well as their parents, to be delighted and embrace the childhood's memorable experience in toys.